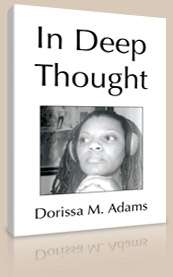 In Deep Thought
by Dorissa M. Adams
In Deep Thought is a book of poems about how a woman used music to overcome her struggles with low self-esteem. It also tells the story of a woman's search for love, romance, intimacy, and other topics that need attention.
Adams calls to mind various vivid feelings of longing as she wonders, "Is a kiss just a kiss", and expresses the breadth of her love in "Three Hundred and Sixty Five Days," to evoke intense passion in "After Romantic Encounter."
Amid these steamy pursuits, Adams' musical inclinations stand out, musing on the often-clasped hands of "Romance & Music", the pleasures of "Sweet Melodies", and contemplating on the gloom that permeates a "Life without Music".
Imaginative and inspired by her many passionate life quests, Dorissa Adams' lyrical collection beckons you to sit back and let the pages speak to you and leave you . . . "In deep thought."